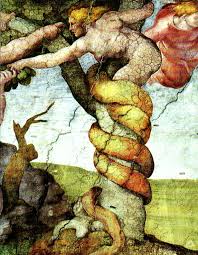 I think this is meant to be funny, nothing else, al'right.
Ricky Gervais
talks about Genesis, God can see in the dark, and the serpent is a mistake, etc.
Now, you will crawl on your stomach as a punishment. 
"Geez, thanks man~ I have been doing this for like, few thousand years. Now it's really hurting me…"
I used to think we evolved.
(
Link
)
Youtube, Ricky – The Bible (animals)